To keep students involve in other academic activities apart from their regular courses of study seminars/conferences/webinars are being organized by various departments of the institute…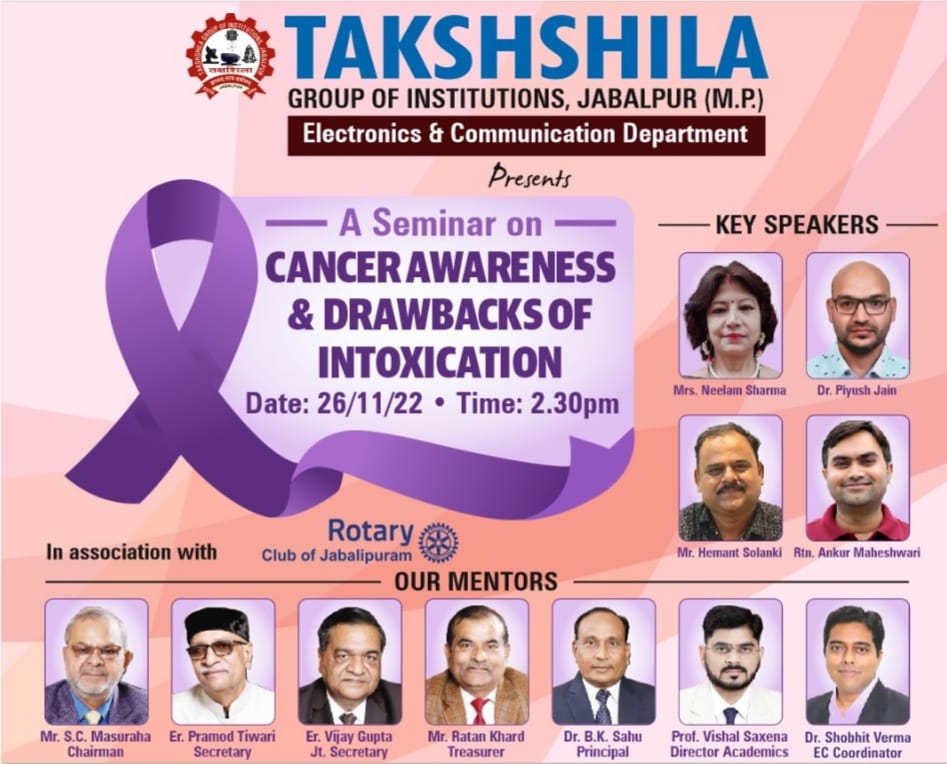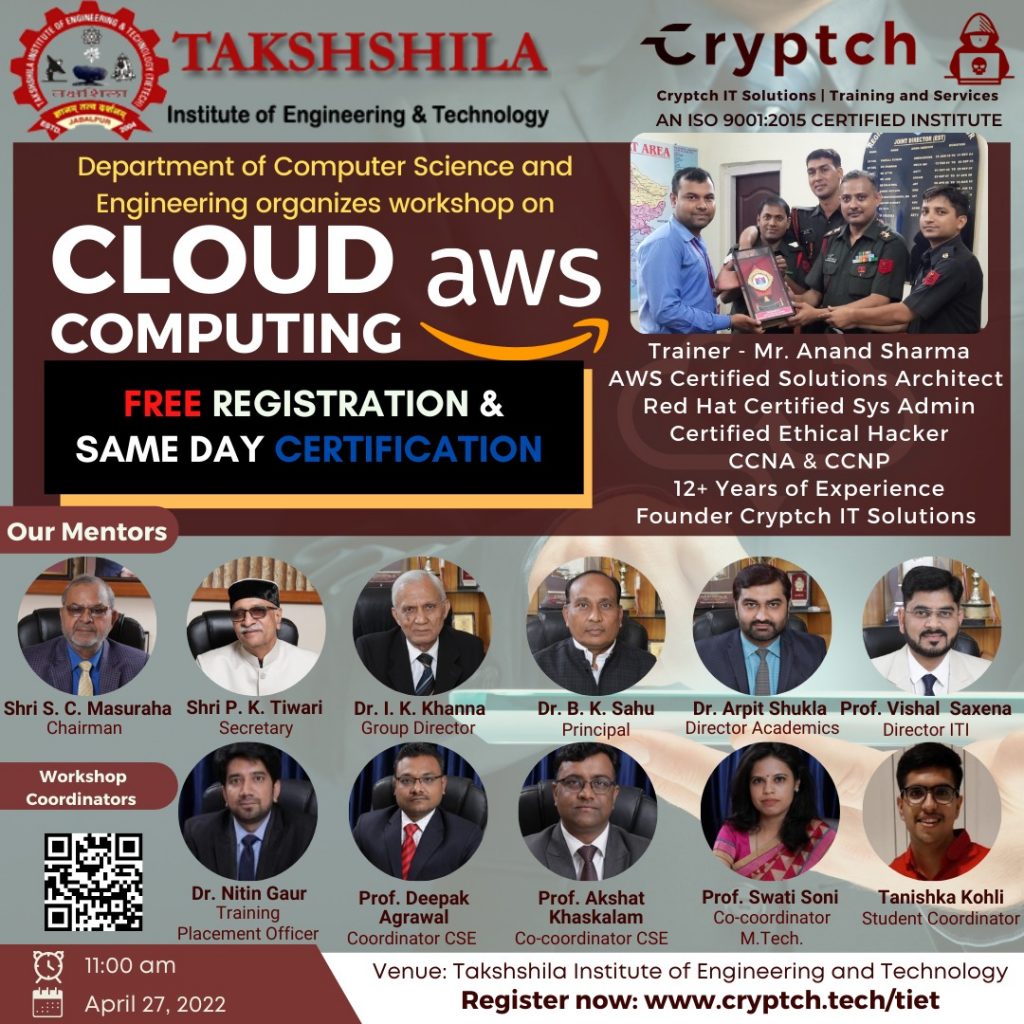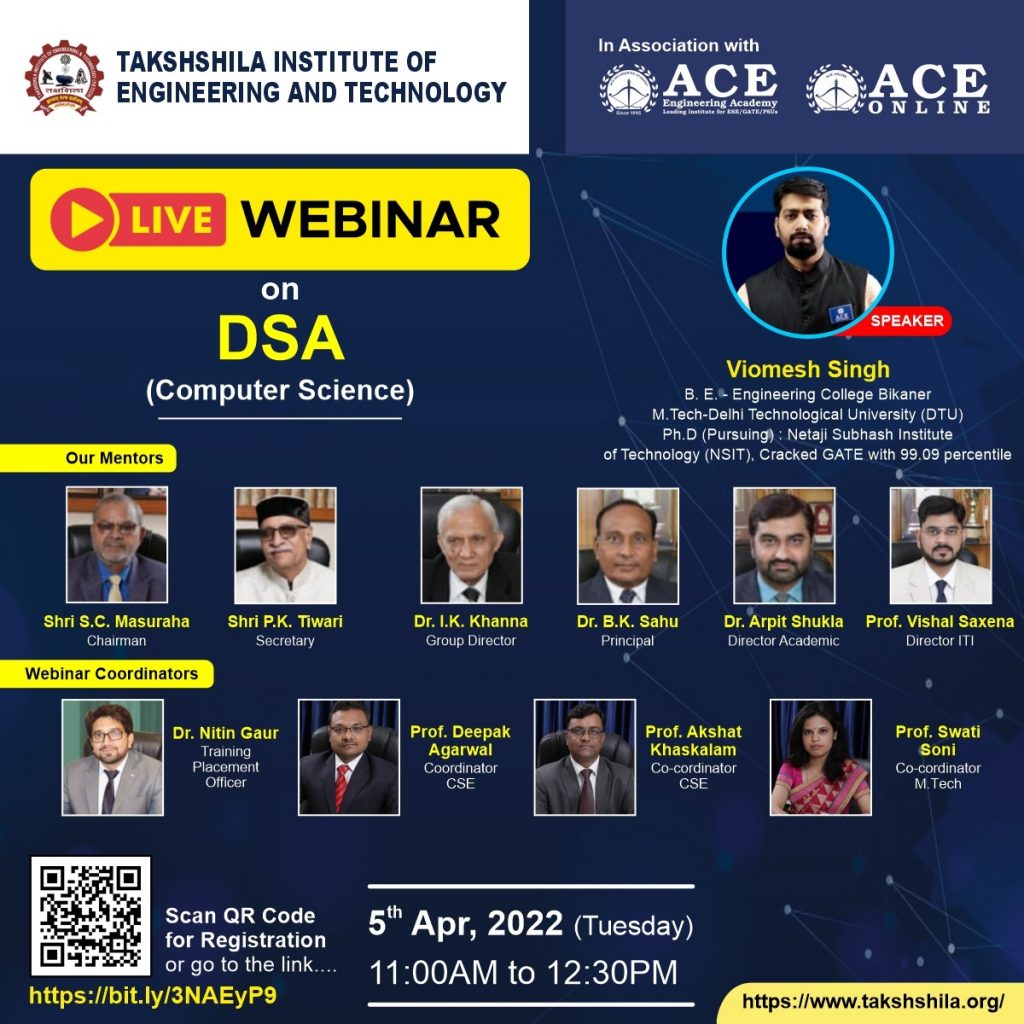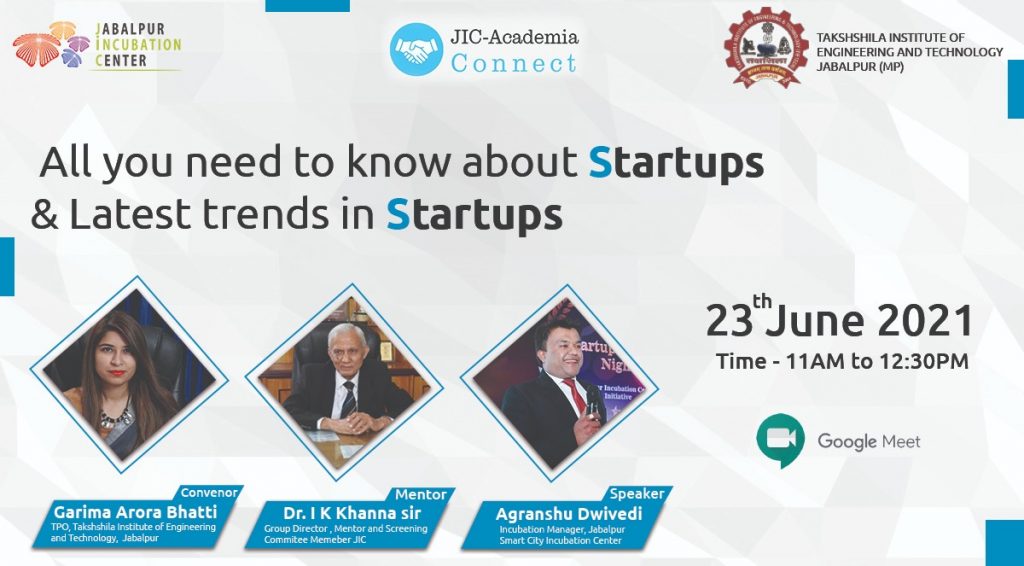 Our Institute has a MOU with Jabalpur Incubation Center (JIC) in order to train our students so that they become good entrepreneurs. To initiate and motivate students in this direction, a webinar was organized by Training & Placement Cell in which the expert speaker was Mr Agranshu Dwivedi , Incubation Manager, Jabalpur Smart City Incubation Center. His speech was titled, "All you need to know about Startups & Latest trends in Startups." Mr Dwivedi explained the meaning and process of initiating startups. He also exhorted the students to become entrepreneurs. Initiatives of JIC in this regard were also explained. He also cited examples of alumni of Takshshila Institute, who are now successful entrepreneurs. The students took keen interest in the talk and their questions were answered by the expert to their full satisfaction.
World Environment Day was celebrated virtually on 5th June 2021. special feature of the webinar was that all the speaker were students of our institute. initially 18 students registered for sharing their thoughts later on 12 more students got on spot registration and express their thoughts. some of the presentations far exceeded our expectations. we appreciate the efforts of all such students and their mentors…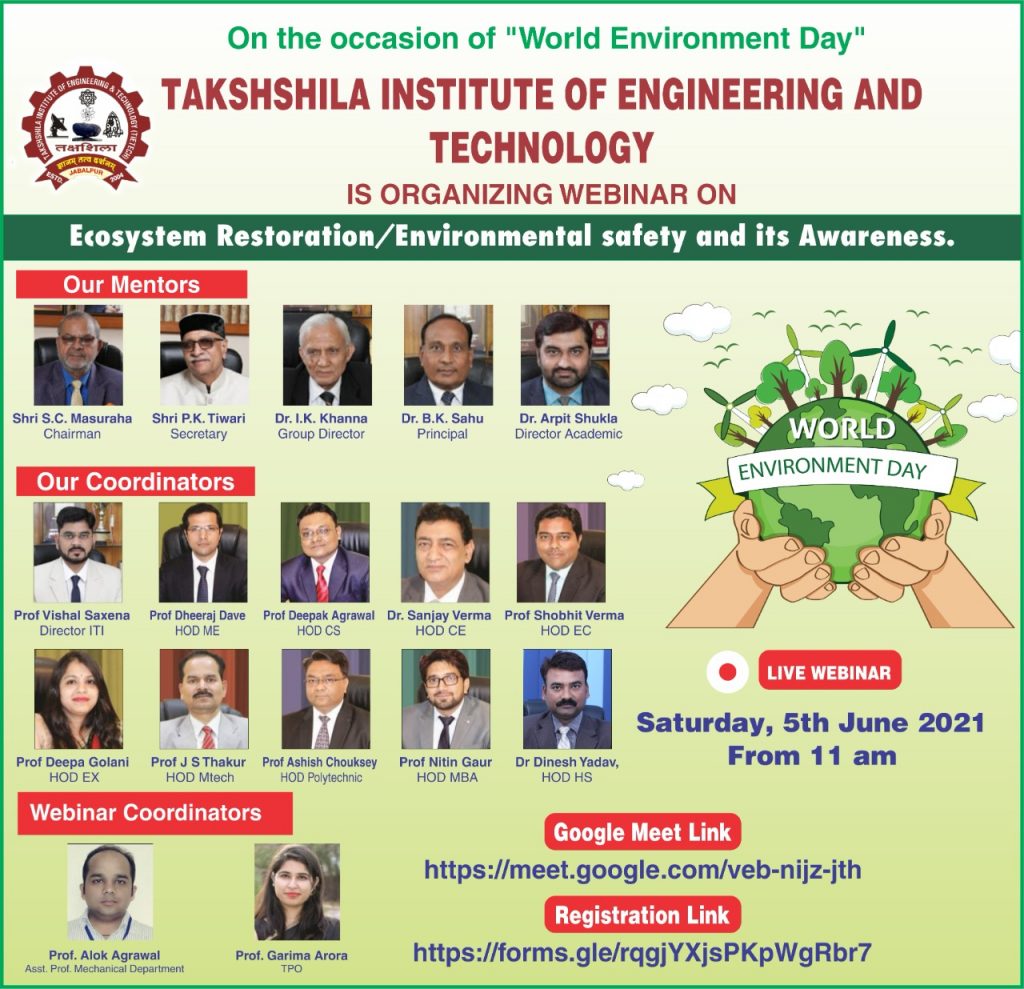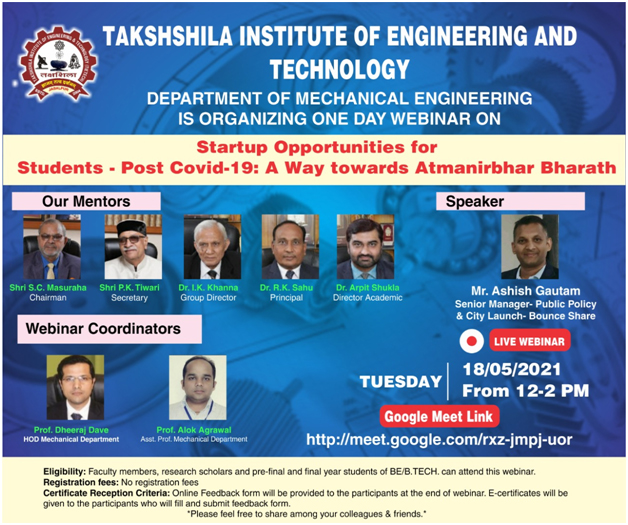 Mechanical Engineering Department organized a Webinar on the topic, "Start up Opportunity for Students". Mr Ashish Gautam was the main speaker. In his presentation he pointed out to the students the procedure to be followed to become an entrepreneur and start their own venture. It provided useful knowledge to the students in regard to setting a startup. The student community was much benefitted with the useful information.
Department of Humanities and Sciences conducted a Webinar on," Opportunities in the field of Cyber Security" for the benefit of first year students. The main speaker was Mr Hemraj Singh Chouhan. In his talk he cited various methods and ways of Cyber Fraud, with the help of examples. At the same time he asked students to follow certain precautions so that they do not fall prey to any type of Cyber Fraud. It was a very informative talk for the benefit of students.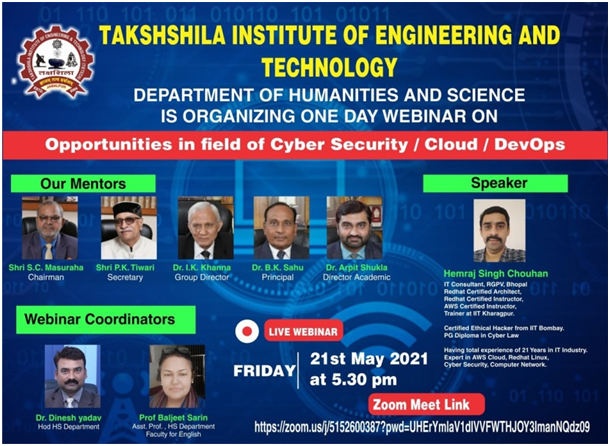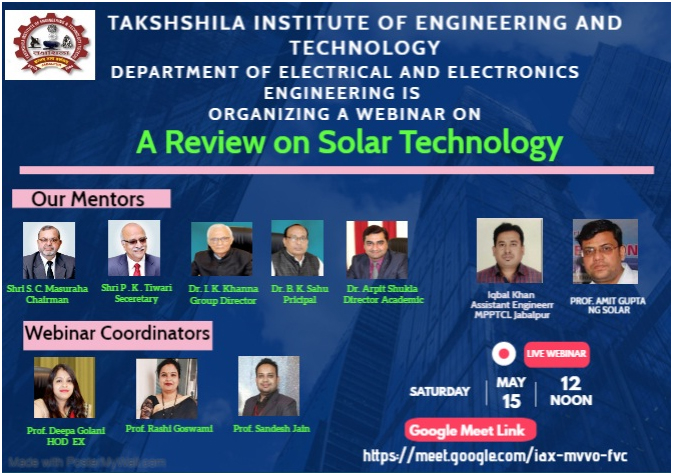 Webinar on," A Review of Solar Technology" was organized by Electrical & Electronics Engineering department. Mr Iqbal Khan and Mr Amit Gupta were the speakers. They highlighted the importance of Solar Energy in the field of power generation and its role in reducing carbon print. They also talked about the benefits of establishing Solar Power Plants at the residences and its potential in earning revenue. The practical ideas presented by them were well taken by the students.
Department of Master of Technology, organized a Webinar on," Ergonomics". They had invited Prof Amol Talankar for a presentation. In his presentation the speaker emphasized the importance of principles of Ergonomics in life. Ergonomics deals with Human Factors Engineering at our working place. How it helps in design of workplace, lighting, humidity and temperature etc was also described. Post graduate students raised a number of queries and Prof Talankar gave them appropriate answers. It was well received by the participants.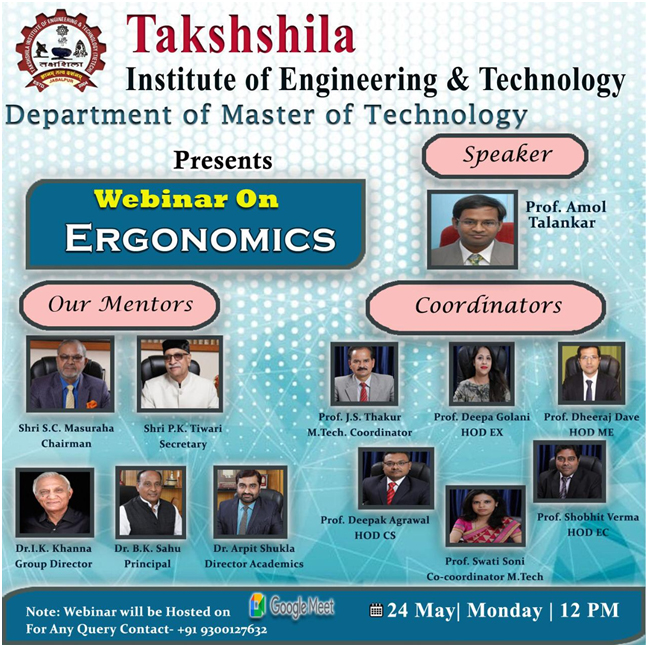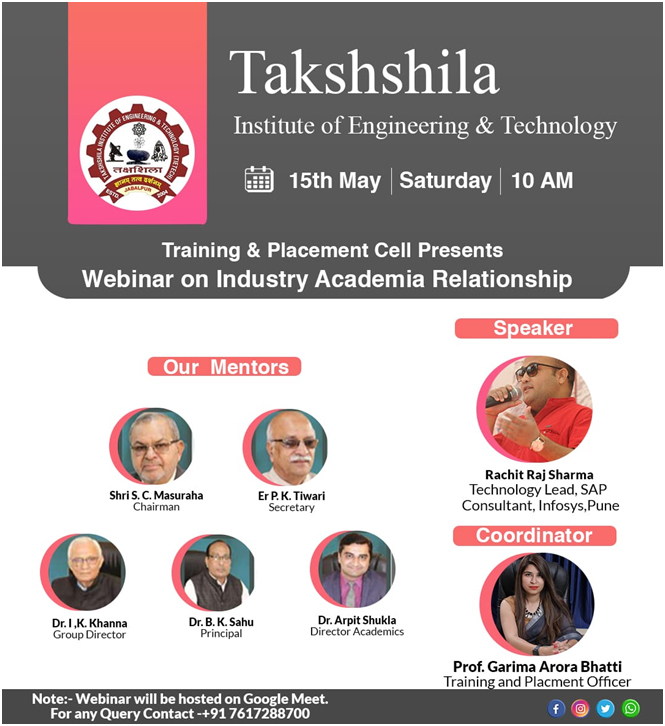 Training & Placement Cell organized a Webinar on, "Industry Academia Relationship". The presentation was made by Er Rachit Raj Sharma, Technical Lead, SAP Consultant, Infosys, Pune. He first described the struggle and problems faced by him in his journey till he reached this position. The students should be prepared to face hardships before achieving their goals. How Industry and Institutions can collaborate so that students are prepared to meet the Industry requirement, was another feature of his presentation. The participants were benefited by the information provided by him.
Department of Electronics and Communication organized a seminar on" Internet of Things and Artificial Intelligence" on World Communication Day, that is, on 17th May 2021. Mr Bhupendra Sing of ROBOTRONICS India was the guest speaker. The participating students were told about the role being played by IOT and AI in the present world of ever changing technologies. The students have to remain prepared with the latest changes in technology so as to enhance their employability. The questions raised by students were answered to the satisfaction of students.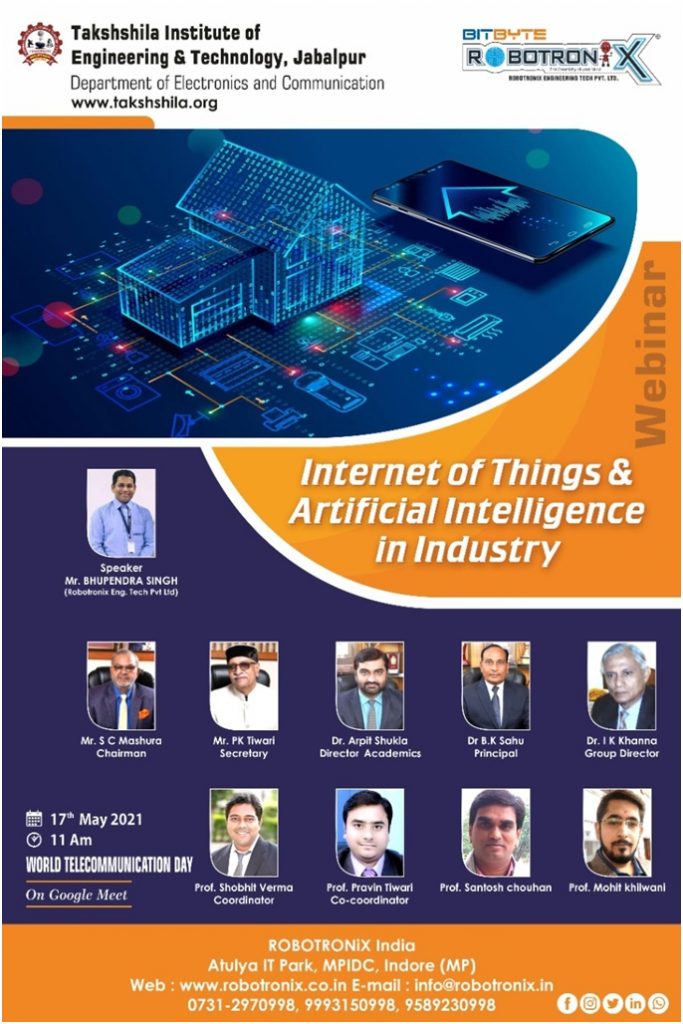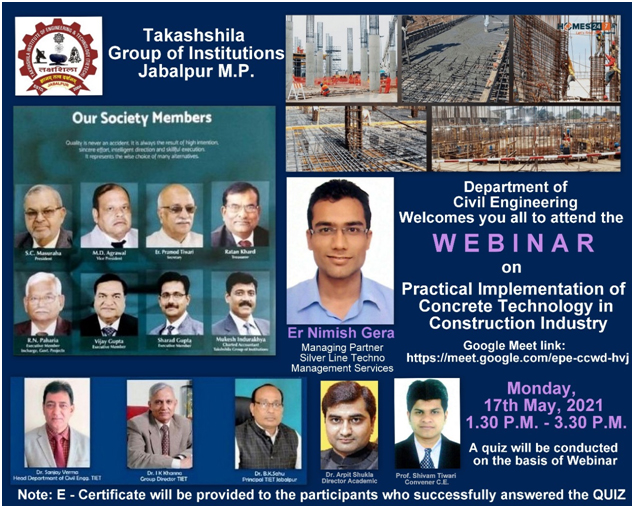 The Webinar organized by Civil Engineering Department was titled," Practical Implementation of Concrete Technology in Construction Industry". The guest speaker was Er Nimish Gera. In his presentation he gave useful and practical suggestions concerning use of cement, sand and aggregate in construction activities. Civil engineering is field oriented and the results of their work are physically visible. In view of this the civil engineers have to be very careful in their work. It was an interactive session and the students were greatly benefitted.
Computer Science and Engineering Department organized a Webinar on, "Real- World Technicalities concerning the Web Development" Mr Nitin K Patel, Director, India Tech, IT Solutions was the expert speaker. In his presentation he explained the technicalities of basic web page designing, components and elements of a web page, data base connectivity, web hosting, domain configuration etc. The students took keen interest in hands on training. Overall it gave a sound insight to the web development technology, and they were very thankful to the expert for the practical ideas shared by him.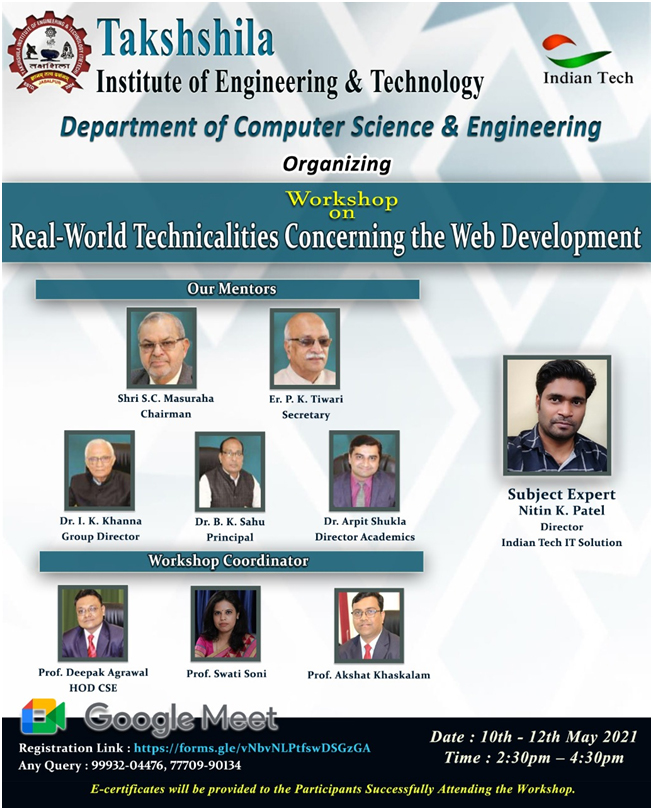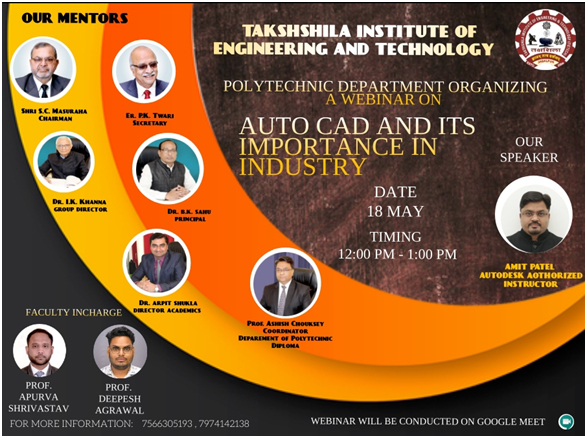 Polytechnic Department hosted a Webinar on," AUTICAD and Its Importance in Industry." The expert speaker was Mr Amit Patel. He explained the use and procedure of making designs using AUTOCAD. He also apprised students about the various commands and their use. The students were thrilled to watch the real process online and it helped them in getting interested in the practical use of the software in design process. Questions raised by students were answered to their satisfaction.